Rev. Dr. John R. Shear
Pastor
Rev. Dr. John R. Shear is the new pastor at TPC.  He comes from St. Louis, Missouri.  Pastor John or PJ as he likes to be called, has a Bachelor of Arts Degree in Political Science, a Master of Divinity Degree and a Doctor of Ministry Degree. He has been in the ministry for 24 years.  Not only has he served as a pastor, but he has also been a professor at both the University of Phoenix and Lindenwood University.
He is also a published author, having written and published a book titled, The Verse After the Verse.
PJ is married to Rev. Jackie Havis-Shear and together they have a blended family of six children and six grandchildren. He enjoys preaching and teaching.  He is also an avid golfer and enjoys riding the train.
You may contact PJ either by cell – 314-249-8024, by email – Pastoroftpc@att.net or through his personal publishing website – Docshearpubs.com.
Debbie Gill
Church Office Manager
Debbie Gill is a lifelong resident of the North End of Springfield.  She has also been a member of Third Presbyterian for over fifty years.  Over that time, she has served as an ordained Elder and Deacon and in 2011 she started working for the church after her retirement from State Government.  She began as the church secretary but is now an administrative assistant and the Church Office Manager.  She loves serving the Lord at TPC.
Debbie has one daughter and two granddaughters.  She loves to spend time with her family and you can often find her in the warmer weather, enjoying camping in her RV.
You may contact Debbie either by cell – 217-341-0123, by email – debbiegill1@sbcglobal.net or contact her directly in the church office at 217-528-0457.  Her office hours are normally Tuesday-Friday from 8:30 until 4:30.
Lynn Martin
Organist
Lynn Martin enjoys playing both the organ and the piano for worship and to accompany a variety of music presentations.  Lynn comes from Lawrenceville, IL.  He has been playing the piano since he was four and he studied Music Education at Southern Illinois University in Carbondale, Illinois and also at Oklahoma Baptist University.  He is an ordained minister in the Southern Baptist denomination. 
Lynn is married to Diana who retired as a Registered Pharmacist. They have three sons eight grandchildren. 
You may contact Lynn by cell phone – 217-691-4343 or by email at Lmartin48@aol.com
Jeff Prince
Choir and Bell's Director
Jeff Prince is the music director and also leads the adult choir and adult hand bells.  His music talent comes naturally, and he and his wife Karee are also involved in the Springfield Muni Opera where they have had many parts in many productions.  After serving in the Air National Guard he did an apprenticeship as a sheet metal worker where he worked for several years.  He returned to earn a degree and now works in IT for the State of Illinois. 
Jeff and his wife have a blended family of three sons and two daughters.  While Jeff plays the bass for the church Praise Team, his wife is one of the vocalists and his son Braden plays percussion and sings.  The Praise Team is joined by their daughter GraceAnne when she is back from college and their other daughter Faith manages the Audio-Visual System during worship.
To contact Jeff, call his cell at 217-299-0481 or email him at princefam1@comcast.net.
Peter Hood
Custodian
Peter Hood grew up at 3rd Presbyterian Church and when it was time to raise his family, they too all attended 3rd Pres.  He has worked at St. John's Hospital as a machine operator, and for the Springfield Park District and after running his own business, he came to work as the full time custodian at the church.  He has been in this position for the past four years.  Peter is married to Carol and they have four children.  He enjoys playing music.  He continues to play the horn and is teaching himself to play the banjo.  He has served the church as both a Deacon and Elder on the Session.
He enjoys relaxing by house painting. 
During the Christmas Season, Peter takes a week's vacation from the church to play Santa Clause in town.  He has been doing that for over 45 years.
You may contact Peter on his cell phone at 217-816-9936 or email him at pete_hood4@yahoo.com.  
Shelby Smith
Staff Associate for Children and Youth
Shelby Smith has a degree in Elementary Education and is working on her PHD in Educational Psychology.  She is married to Christopher and has a blended family of three children: Hayden, Amelia and Kiara.  She has previously worked in several places in Elementary Education, most recently having worked in a Children's Program at a Federated Church near Peoria, Illinois.  
She also has experience working with at-risk children.
Shelby values her faith as an important part of who she is and wants children to engage in practices to develop a solid faith as youth so they can take that into their adult years.
You may call Shelby at 309-291-1637 or email @ shelbyerinsmith@gmail.com
Jim Clanton
Church Treasurer
Jim Clanton is the church treasurer.  Jim's family moved to Springfield when he was nine and he became a member of TPC shortly thereafter.  He is a natural teacher and started teaching Sunday School when he was still in High School.  He continued to teach the 3rd thru 6th grade classes and then the High School Class. 
Jim has previously served as a Deacon and now as an Elder, he is beginning his second term as Church Treasurer.  Jim is still employed full time in the iron industry.
You may contact Jim – cell – 217-971-5857 or email – jclanton47@gmail.com.
Diana Nevitt
Chief Deacon
Diana Nevitt is currently serving as the Chief of Deacons and is completing her sixth consecutive year on the Board of Deacons.  She has held the position of Chief Deacon for the last three years and has served in the past as Deacon.  Diana attends church and Sunday school. 
Diana was born in Springfield, IL and was raised in the Catholic Church.  After having her daughter she sought out a church that held Sunday school classes.  That was 37 years ago.  She now has three children with roots at Third Presbyterian Church.  Three of her granddaughters were baptized at Third.  She married her husband Jerry Nevitt, a life-long member of the church in 1992, and became a blended family with three children and seven grandchildren.  Her children attended Sunday school classes until high school and church until they grew up and moved away.
She is retired from the Illinois Department of Transportation after almost forty years of service.  She enjoys being active by gardening, running, biking, swimming, and working out in the gym.  Diana also enjoys working with Jerry in his wood shop and being his right hand person on remodeling jobs.
Her passion is living a Christian life with her family and friends.  You may contact Diana either by home phone 217-498-9842 or email wildrose2@springnet1.com.
Elaine Crowell
Chair of Trustees
Elaine Crowell serves as the Chair of the Board of Trustees for the Church.  Elaine retired after 31 years at Ameritech Service now runs a small landscaping company called Freshstart Flower Beds.  Elaine is a widow but enjoys her children and five grandchildren.  She also serves as an Elder and Chair of the New Life Team.  Previously, Elaine was a Deacon and taught Sunday School.
Please contact her on her cell 217-725-2938 or email her at elaine.crowell@comcast.net.
Patsy Rader
Clerk of the Session and Parish Nurse
Patsy serves currently as the Clerk of the Session and she is the Parish Nurse.  Patsy was baptized into the church when she was six.  She was active as a youth in Christian Endeavor and sang with the choir.  She has a degree in nursing and worked in the emergency room at St. John's and she was the supervisor of the Maternity ICU.  She has also served as an emergency medical technician and CPR instructor.  She was the first woman to serve on the Riverton Fire Department.  After her husband's death she participated in a grief group and eventually became a mentor and continues to do grief counseling. 
Patsy has two adult children, three grandchildren and one great-grandchild. 
She has served in many capacities in the church including being ordained an Elder on the Session.  She was just recently re-elected to be the Clerk of the Session and continues as the Chair of the Discipleship Life Team.
Her cell phone is 217-652-2163 or email her at prrrnaom93@aol.com.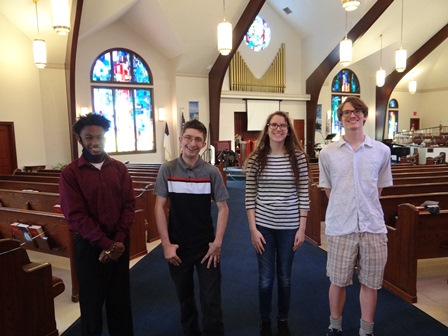 Dequan, Seth, Faith, Braden
Audio Visual Crew
TPC is blessed to have four young but highly qualified and dedicated leaders who manage all aspects of our audio-visual work.  Whether its AV control during worship, video-taping, still-photography, editing and preparation of the radio show and the Facebook Worship, one or all of these four are involved.